Welcome
We are a community of change-makers campaigning for a more just and equal future for Australian women.
We did it! Thank you for your support!

Along with WEL NSW founding member, Wendy McCarthy, and over 70 organisations, we have successfully campaigned to decriminalise abortion in NSW. During the morning of the 26th September 2019, the Abortion Law Reform Bill was passed, to much applause. 
Listen to Mary O'Sullivan, WEL NSW Executive Committee Member  and head of WEL Abortion Action Group, speak on the historic news HERE.
What's next?
1) Please support our work to continue campaigning for gender equality by making a donation today.
2) Show support for the Bill by using the hashtag #VoteProChoiceNSW on your social media and thanking the MPs involved.
3) Get involved with WEL by signing up as a member or volunteer.
Media release available HERE.
The background of the campaign is outlined below.
Late on 21st August 2019, the Reproductive Health Care Reform Bill passed a vote in the NSW upper house (Legislative Council) 26 votes to 15. Beginning the week of 17th September, motions to amend the Bill were debated and voted on (some moved together). 
Fifteen MPs from across the political divide have co-sponsored the Bill to decriminalise abortion in NSW, in a historic move that has never been done in the state's lower house.
The threat was that amendments could change the nature of the bill and force even more restrictions on abortion than there previously had been. Opponents of the Bill will were vocal in the weeks leading up to 17th September in a bid to try to influence lawmakers. We were up against institutions and organisations with substantial financial backing. However, support for the Bill was too strong among health, legal and community organisations that work with women and pregnant people. We got it done!
You can help us continue our work for women's rights by making a donation - every dollar counts. You can contribute HERE. 
WEL is lead the NSW Pro-Choice Alliance, with our partners Family Planning NSW, Women's Health NSW, Human Rights Law Centre and Fair Agenda. The Alliance represents expert legal, health and community voices from across the state. 
NSW is the last of the states and territories in Australia to modernise its laws pertaining to termination of pregnancy. Medical practice, societal expectation, and our understanding of human rights and personal freedoms have all changed profoundly over the last 119 years. Our parliament has finally recognised these changes by adopting legislation that will regulate abortion as a health procedure, rather than treating it as a crime. 
---
For nearly 50 years WEL has brought women from all walks of life together to work for the good of all. Women of all ages, races and backgrounds have lobbied, marched, protested and carried out important research into the barriers that hold women back from a life of dignity, safety and success. 
WEL is proudly reformist and always ambitious. Through passion, determination and strategic thinking, we have won many significant policy changes and law reforms to make life better for women everywhere. We are not for profit, non party political and independent. We are able to continue our work and campaigns for equality thanks to the generosity of people like you, our members and supporters.
Learn more about how WEL has been making women count over the past 45+ years in this short film. 
Remembering Dr Beatrice Faust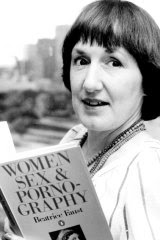 Farewell, vale Bea.

Dr Beatrice Faust was one of the first Australian women to campaign for civil liberties, abortion law reform and sex education. In 1966 she co-founded the Victorian Council for Civil Liberties, and she's best known for being one of the founders of the Women's Electoral Lobby (WEL) in 1972.
Bea was courageous and inspired a whole generation through her work for civil liberties and for women.
She will be greatly missed.
Read the obituary written by Iola Matthews here.